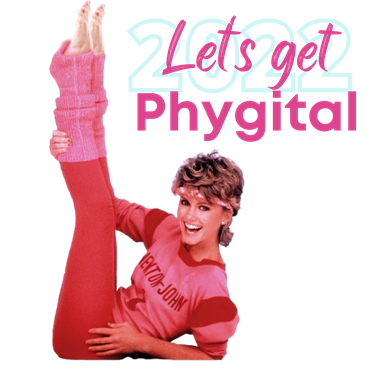 Headbands and leg warmers have seen their day and thankfully so have bone-headed arguments about the relative merits of digital marketing compared to offline channels.
Savvy marketers are reaping the rewards of an omni-channel strategy where every touch point and brand experience is keyed in to the customer and where they are on their path to purchase or repurchase. This unification of physical and digital has spawned its own buzz word – Phygital. If omnichannel hasn't been on your radar then 2022 is definitely the year to get phygital.
The power of phygital is nowhere more clear than in data-driven integration of digital and direct mail.
Conversify is seeing a resurgence of brands reconsidering the proven marketing channel of direct mail.
They recognise the benefits and returns of direct mail like the ability to re-engage customers in a memorable and actionable way as well as increase customer interactivity with brands.
It's no surprise that this marketing channel is seeing surge in uptake as the modern direct mail campaign is more effective than ever and now can be digitally interactive allowing you to access real-time data metrics, move customers along the path to purchase more quickly and convert higher quality of customers and increase brand loyalty.
So what do the 2022 trends look like? In an article by Erik Koenig, he explored how direct mail marketing is now focussing on three key areas: Sophisticated Targeting, Personalisation & Relevance and of course Multichannel Experience.
Sophisticated Targeting, or as we refer to it, data segmentation, is the strongest driver for any successful direct marketing campaign. As Koenig says, The right message, at the right time, hand-delivered to the right person is a truly valuable connection. Conversify has been working with our customers in 2021 on driving the importance of data segmentation and messaging. Working closely with Mercy Super, they have delivered a fantastic campaign that highlights how well this can be achieved. Take a look at Mercy Super's health check here
Personalisation is key! We all know receiving mail with our name printed on it catches our attention. We stop, read and then take action. Why? It is personal to us. Personalisation and relevance within a marketing campaign is no different. It is becoming increasingly important to personalise your campaign to your customers, and did you know, they expect it too! Digital printing makes mass-customisation of direct mail a viable strategy. Leveraging real-time customer data to trigger personalised DM that doesn't just address customers by name, but demonstrates awareness of their needs, preferences and experiences with the brand. Treating them as individuals reaps the rewards long term for your brand and contributes directly to the bottom line.
So what are you waiting for? Bust out those leg warmers and get phygital.
Conversify are experts in contemporary, digitally integrated direct mail and we would love to talk with you about how this under-utilised channel can supercharge your existing marketing program. You can reach us on 1300 963 342 or hello@conversify.com.au.