The Challenge
Travel Associates were needing to increase sales for their premium cruise experiences. After twelve months of marketing to their customers, digital marketing was not producing the required results.
The Method
A premium cruise marketing campaign was designed to specifically incorporate digital and print media. The strategy consisted of producing a 16 page bespoke brochure, inspiring customers to explore new destinations and book their dream cruise holiday.
Essential to the success of this campaign was a highly personalised flysheet with a strong call to action, incorporating the customer's local travel advisor details.
To enhance the imagery in the brochure, finishes included a premium paper stock, soft touch cello and a custom spot UV design, delivering a luxe tactical experience for their customers. Encased in a clear envelope, the creative design was instantly visible to spark interest when delivered into the customer's letterbox.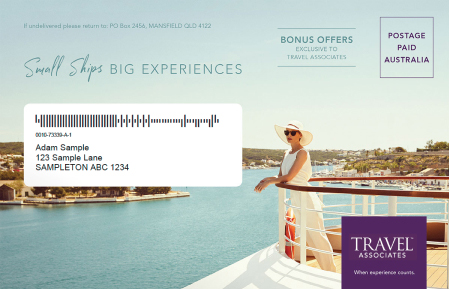 Travel Associates targeted 6,000 of select customers who had not purchased within a two year period.
Leveraging print and mail to drive bookings delivered results

Conclusion
So how did the campaign perform within the different channels? The digital campaign delivered a good return on investment, generating 138 bookings with a total transaction value of $700,000. The print component out performed expectations delivering a higher return. The direct mail campaign generated 700 bookings with a total transaction value of over $7,000,000.
Personalised direct mail proved a win for Travel Associates. The benefits of a highly personalised direct mail piece targeted to relevant customers, increased customer engagement and sales.